How to Choose an Evidence-based Practice in Human Services
Looking to implement an evidence-based practice in your human services organization? Our blog seeks to provide practical, real-world advice for how to choose an evidence-based practice in human services—how to find an EBP that fits your organization's needs and unique culture.
You've probably noticed the abundance of noise in what we refer to as the evidence-based practice "marketplace." There are any number of guides available, like this quick guide from the University of Connecticut, with exhaustive lists pointing leaders of human services organizations towards even longer lists and clearinghouses of practices.
The California Evidence-based Clearinghouse for Child Welfare, for example, is a great resource for understanding particular EBPs, if you already know exactly what you need. But it lists a grand total of 469 practices, and detailed, difficult-to-parse information about each one—that's a lot to digest!
Most of these resources ask you to reinvent the wheel—they ask you to start from the beginning and learn everything there is to know about hundreds of practices to decide what might fit your organization. You don't have time for that!
We approach identifying the right evidence-based practice from an organization-first perspective. By better understanding both your organization's needs, realities, and even preferences, you can approach the evidence-based practice marketplace understanding what you need to succeed.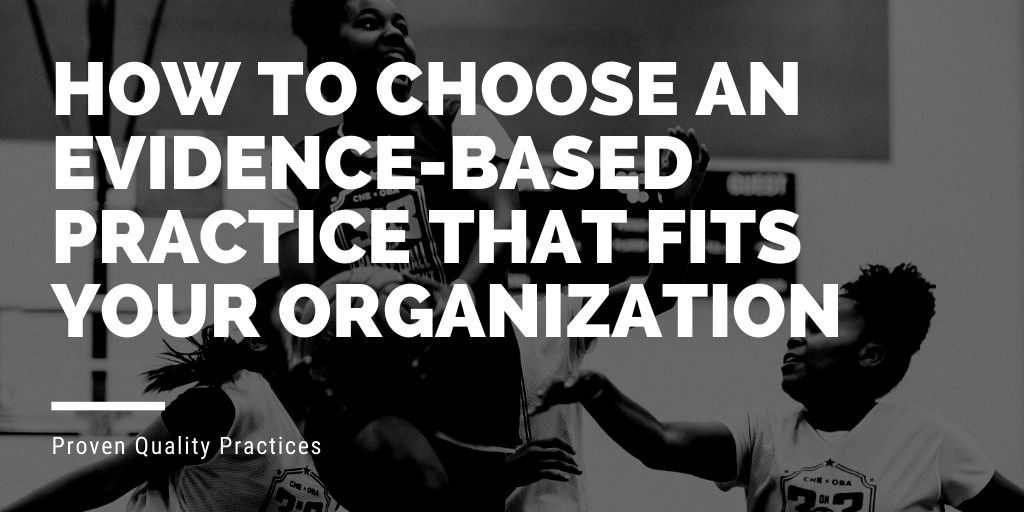 How to Choose an Evidence-based Practice that Best Fits Your Organization
So, we've flipped the usual script to offer the following advice on how to choose an evidence-based practice that best fits your organization, and to empower you in your search to cut to the chase and ask the right questions.
1. Set your organization's goals.
An honest appraisal of what your organization is seeking from an evidence-based practice is the right place to start the search process. For example, being specific and concrete about your clients' wants and service needs will help you narrow your search immensely right out of the gate and save you a lot of time.
But also consider your organization as a whole, and ask not just what your clients need or want, but what your leadership and staff want out of an evidence-based practice as well.
Maybe you're looking to improve quality or consistency of care, or maybe you're happy with your current services but seeking some evidence-based recognition or compliance. Being honest with your goals will ultimately help you to prioritize your search and to make the best decisions.
The importance of setting specific, concrete and honest goals for your organization and your programs cannot be understated—it will empower you throughout the search and implementation process.
2. Analyze what works at your organization.
Goal setting isn't all that's required of an organization-first perspective—we also want to take a deep look at what's already working with your current services.
We know that most interventions in human services are effective to some degree—in fact, that's exactly why practices should only receive "evidence-based" recognition when they are demonstrated to be even more effective than "treatment-as-usual." At Proven Quality Practices, we believe that most organizations are closer to being evidence-based than they might think—and analyzing why that is will help you choose an evidence-based practice that is complementary to your current services and your organization's culture.
A deep analysis of your organization's staff, services and treatment elements will further help you identify evidence-based practices where you may have a head-start on implementation. It will also empower you to discuss exactly what gaps you need to fill in implementation, so you can direct the conversation with practice purveyors.
3. Don't reinvent the wheel; get outside perspectives & advice.
After setting honest, specific goals and doing a thorough analysis of your organization, you'll have a foundation to better and more efficiently approach the evidence-based practice marketplace—and other peoples' advice.
Unlike other guides, we don't recommend you dive into the crowded world of evidence-based practices alone—sink or swim. While a fundamental education in the principles of evidence-based practice and the process of evidence-based practice implementation will absolutely benefit you, parsing every detail of hundreds of practices will probably be a waste of time.
You shouldn't be expected to read, understand and synthesize all the latest research in human services. You can find great resources outside your organization without having to reinvent the wheel.
Evidence-based practice dissemination often occurs via social practice networks, local and national—and for good reason. These practice networks—associations, for example—increase the likelihood of implementation success, and they'll also help you cut to the chase.
We absolutely recommend participating in wider networks of other human services organizations, and it's likely you'll be able to find good, frank advice from other experienced and like-minded leaders in those forums. Getting outside perspectives that understand where you're coming from and can give you frank advice is invaluable in finding evidence-based practices that will work for you.


At Proven Quality Practices, we decided we could best help organizations achieve steps 1-3 with an individualized and interactive navigation resource, designed to guide leaders through organizational analysis, empower them with what they need to know about evidence-based practices, and narrow their search to practices that best fit their organization.
4. Weigh practice options against your organization and your priorities.
If you've done steps 1-3 effectively and comprehensively, you can approach this decision-making process efficiently. You also have a stronger hand in negotiating implementation and consulting support from practice purveyors. By now, you've narrowed your search and built fundamental knowledge about practices that will help you cut to the chase. You've also done your due diligence on your own organization—both of these steps will result in more productive conversations about implementation.
Here's where we suggest doing a deeper dive on the practices themselves. Rather than starting at the beginning across a wide range of practices, you'll be ready for more advanced information about a few specific practices that you've already identified as a potentially good fit—you'll already be well ahead of most organizations who started exploring practices before they understood the context of the marketplace and their own organization.
Most implementation teams and practice purveyors will offer some form of implementation readiness assessment, a helpful resource that will be far easier to complete having already analyzed your own organization. At this stage, you'll also be able to get individualized information about the cost of implementation, and you'll be able to see concrete roadmaps to implementation and set expectations.
As you've already set your organization's honest and specific goals and priorities, you'll also be able to fold this information quickly into your decision-making process.

Preparing You for Evidence-based Practice Implementation
Ultimately, there are no shortcuts to evidence-based practice—but following this advice should help you understand how to choose an evidence-based practice that best fits your organization to make the whole process easier. It should also prevent you from becoming overwhelmed, and help you to understand what's involved in evidence-based practice implementation.
At Proven Quality Practices, we believe our interactive modules to guide organizations through steps 1-3 can achieve all of the above—and leaders who complete them will receive an individualized report with detailed organizational analysis and practice comparisons weighed against your unique organizational circumstances and culture. We even have a sample of our individualized practice matching report for you to see the value of this service, first hand.
While there are no shortcuts to implementation, we certainly hope this resource will help organizations save time, cut to the chase, and have more productive conversations about implementation from the outset. Our mission is to close the science to practice gap—and we want to do that by helping you succeed.